Who We Are
Daybreak Game Company is a worldwide leader in massively multiplayer online games and emergent gameplay, best known for blockbuster hits and franchises, H1Z1®, EverQuest®, EverQuest®II, PlanetSide®2, DC Universe™ Online.
Daybreak also publishes The Lord of the Rings Online™ and Dungeons & Dragons Online® for Standing Stone Games.
Our gaming heritage runs deep, and we continue to build upon that legacy with our current and future titles.
We are a community-driven company, committed to bringing players the best games and entertainment experiences. Our team is always pushing the boundaries of innovation and looking for ways to create and redefine game genres.
Our Leadership Team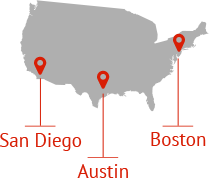 Daybreak Games is privately owned by Enad Global 7 AB (publ). The company's executive team serves under the leadership of our CEO, Ji Ham. Daybreak is headquartered in San Diego, CA and has development studios in Austin, TX and Boston, MA.