Last week Daybreak hosted UXSpeakeasy, a 501c3 nonprofit group for professionals in the San Diego User Experience (UX) Community, for its monthly meet up. The event focused on UX designing for the gaming industry and discussed the spectator experience. Elina Ollia, Director of UX from Daybreak, put together the event and gave us a rundown on what it takes to be a UX designer in the gaming industry.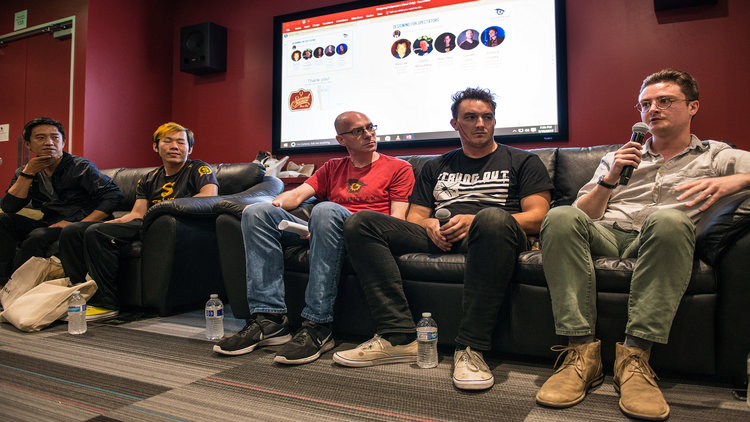 What is UX?
UX stands for User Experience, which can include design and research. These two branches help UX designers take a holistic view when faced with challenges.
Why is UX important to game development?
Years ago, many game companies did not put much focus into UX—UX and usability were not even recognized as a discipline. Game companies realized the importance of a UX team to help ensure that the challenges in their games are strategically placed within a user-friendly interface. Today's players have so much choice that if you don't invest in making gameplay compelling and usability easy, you are going to have a huge disadvantage against the competition. UX design best practices informs UX research, allowing you to optimize towards the best solution quickly when developing a game.
What was the focus of this event?
We had a panel of five speakers that brought different perspectives about game and product design. The panel looked at UX from not only a design and business perspective, but also from the viewpoint of a professional player.
What does the future of UX look like?
In the last few years UX has really grown, especially in the gaming industry. As UX becomes more prevalent, many gaming studios, including Daybreak, have been ramping up their UX departments. Even GDC introduced its first UX Summit this year.
What skills do you expect a game UX designer to have?
Game UX designers typically have a good mix of understanding human behavior and designing user interfaces (UIs) that help end users, or players, to reach their goals in pleasurable, efficient and engaging ways.
What's advice would you'd tell an aspiring game UX designer?
Once you have the proper training for UX research or design, you should play a wide variety of video games in different platforms. Do so with a critical thinking hat on. Look at what works well, what should be improved and why something might not work. This will help you to level up your skills. Additionally, participating in local meetups or conferences is a great way to network and keep your skills up-to-date.
Are you interested in a UX position at Daybreak? We post available opportunities on our careers page at www.daybreakgames.com/careers, so be sure to check it out!